Features:
1) PVC Material
This mat is made up of good quality PVC containing foam featuring low rebound element along with a leather textured surface. The anti skid backing feature keeps the mat in place and protects from sliding around. Kitchen is a place where these tripping and slipping incidents are frequent due to different spills of oil, water and food. The textured surface of this mat coupled with anti skid element keep the mat gripped to the floor and protect you from slipping or falling.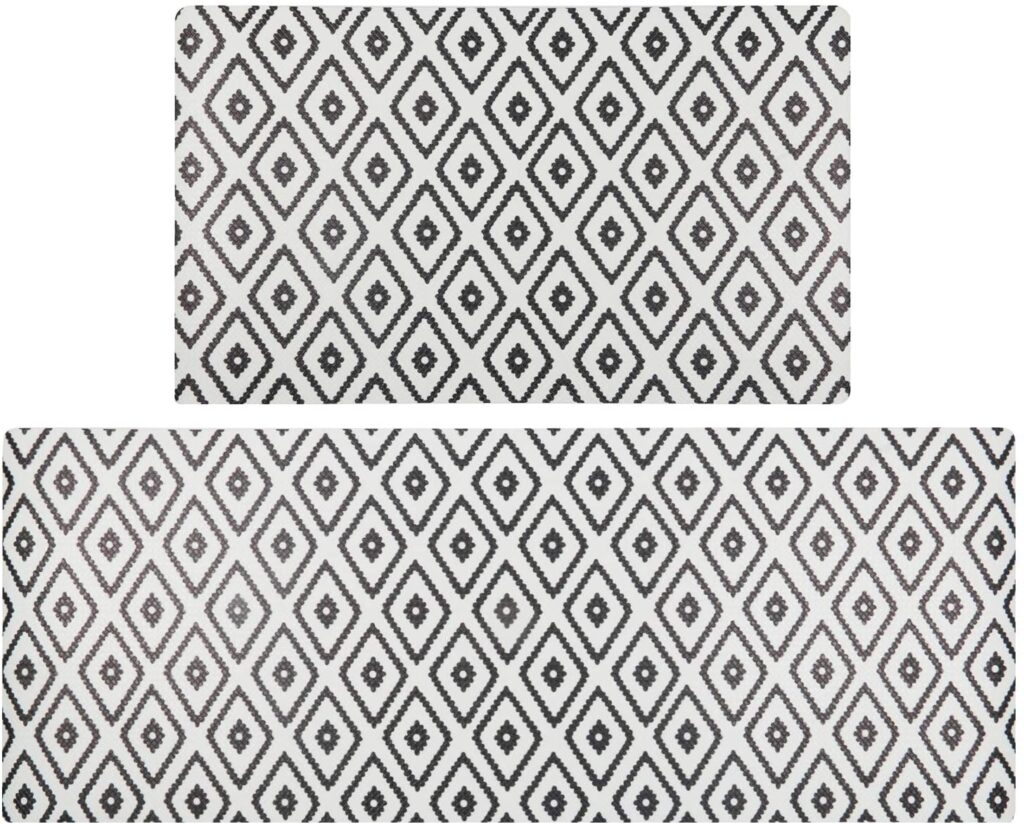 2) Oil & Stain Resistant
Other features of this great piece of craft make it further tempting. It is Oil resistant and stain resistant which means you need not to worry about the frequent oil spills in the kitchen. Apart from being soft and comfortable, the mat is also waterproof and anti skid. So as a whole, all these features make your mat a great addition to the kitchen which keeps the kitchen floors safe from stains, dirt, scratches and water spills. Your kitchen becomes a safe place for your children and the pets to play and move around.
3) Non Shedding of Fibers
Adding this mat to your kitchen is a great way of adding style to it with its stylish design and great features. Another important feature of this mat is that it does not shed fibers. No shedding of fibers means a neat and clean kitchen with a quality mat.
4) Easy to Clean
Now let's come to the most important part of maintaining a kitchen mat i.e. keeping it clean. This mat is again not behind in this aspect as it is easy to clean and can be cleaned with a damp cloth hence no trouble of maintenance.
5) Versatility
Versatility is another great feature that this mat carries as it can not only be used in kitchen but is a great fit for laundry room, workshop, standing desk and any other area of the house that has high traffic. So you are free to decorate any part of your house with this marvel of a rug which will add style and decor to your area and keep the floor safe from all kinds of stains, scratches, various types of spillages and dirt.
6) No Odor
The mat also carries no odor. Normally we have seen that the mats either carry an initial odor or do have permanent odor of varying strength but this mat is odorless and would be a valuable addition to your home.
7) Sizes & Colors
The mat comes in size of 17.3×29+17.3×47 inch / 44×75+44×120 cm. The thickness is 0.4 Inch / 10mm. Higher level of softness and thickness of this mat can help to relieve your foot from extra fatigue of standing for long hours in the kitchen. This Ergonomically Engineered mat coupled with anti fatigue element is sure to add extra bit of comfort to your legs, feet and back and make sure that you can work effortlessly while preparing food for your loved ones or doing the dishes.
The mat comes in Black Rhombus design/color and looks elegant. Though the color option is limited and same goes for the style, still it looks quite elegant and graceful in this black rhombus touch. So you need to look no further and just get one for your kitchen to add touch of elegance and class.
Where to Buy ?
Of course buying a kitchen mat is challenging as there are different platforms offering these services of online selling. We would recommend you to go for Amazon simply because of its great customer friendly interface linked with a great customer review part. You can easily find reviews of various customers and make an informed decision.
In the end, we would like to conclude this article by saying that gone are the days when kitchen was only an area to cook and prepare meals. Now it has gone far beyond that due to the fact that now kitchen is a place where not only meals are prepared but memories are made, happiness is shared and all the family gathers and enjoys meals. Also, it has become an area where your children and pets are frequently roaming around. So the first and foremost thing should be to make it safe apart from decorating it.
Anti Fatigue Kitchen Floor Mats by SHACOS are a perfect way to achieve both elegance and safety. Buy these mats from Amazon today and get the luxury and comfort at your doorstep. Stylish, comfortable, cozy, anti fatigue, anti skid, waterproof, stain resistant, oil resistant and much more…these mats are a great way to decorate your homes. Happy shopping!