The most difficult part of furnishing your kitchen floor is looking for the proper mats. If you've reached this stage then you've already taken the most difficult decision. By now you've decided what kind of mat you're looking for- whether your priority is aesthetics, comfort, or if you've come here for pet-friendly mats- either way, you've passed the biggest hurdle. Now it gets easier!
Finding the best cleaner for the kitchen floor mat is another stage which is also confusing. You've learned there are different ways of cleaning mats, and that each material requires different care, and you're left wondering if your one detergent can handle the load for all of it- am I right?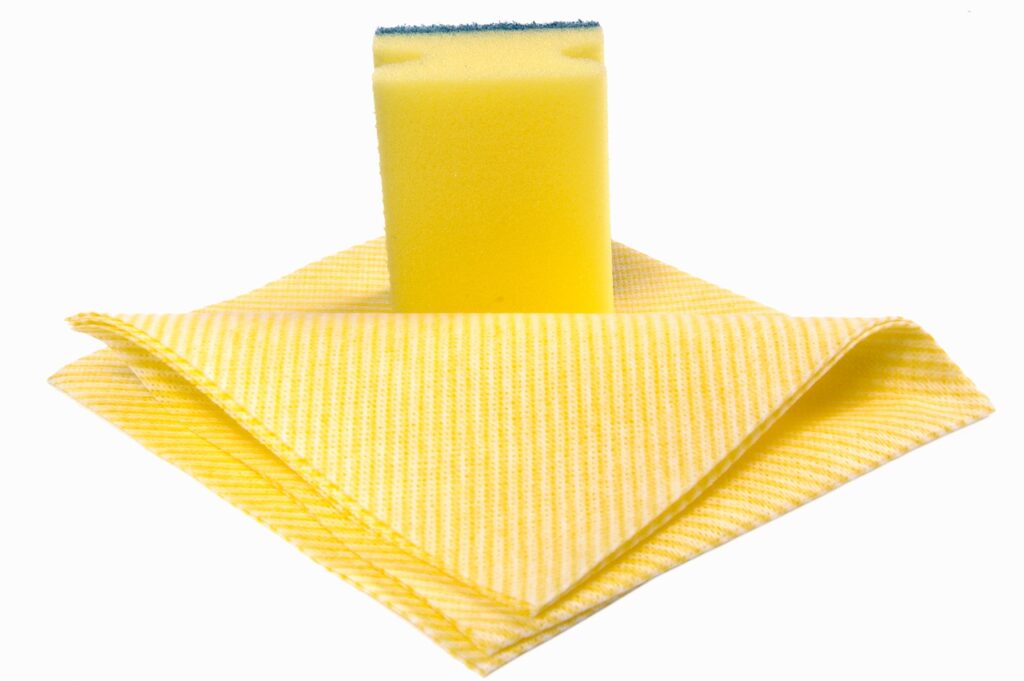 Either way, we're here to fix your issue. By the time you peruse this article, you'll know exactly which detergent or cleaner you need to purchase!
The first thing you need to figure out is what material you're dealing with. Do you have a cotton mat, wool mat, rubber mat, or a foam mat? Once you have the material identified, then you can easily find the best cleaner for the kitchen floor mat and the process will become much easier.
Carpet &Cloth Styled Mats
If you have carpet styled mats, then your texture is closer to cloth, cotton, and woven wool than it is to rubber anti-fatigue mats. All of these mats tend to get easily stained, collect dirt in their layers, and trap pet hair in case of pets.
For cleaning these surfaces, you'll be leaning more towards the side of your laundry detergents. Though these textures are not exactly what you wear as clothes in everyday life, they share enough similarities to be washed with the same cleaner.
Importance of pH:
The main difference between laundry detergents and other sorts of cleaners is their pH. Most people are unaware of the fact that all cleaners have different pH levels which determine how suitable they are to the texture.
Mats with this sort of texture tend to be cleaned best by slightly alkaline solutions. They need cleaners that aren't too alkaline but aren't completely neutral. This is why most laundry detergents tend to be in the range of 8-9 which works best for them!
Laundry detergents get most of the dirt, hair, and other impurities out. However, working in a kitchen promises some hard stains on the kitchen mats, so if any stains are harder to remove and don't come out easily with simple laundry detergents, there's a solution for that as well!
Most people have an issue cleaning out grease stains. Thankfully, there are now specialized grease stain cleaners that serve this very purpose! Just a quick search on Amazon and you'll have a variety of those in your hand.
Recommendations:
Some of the well-known options which are known to work wonderfully in these circumstances are:
Boardwalk HURACAN40 Industrial Laundry Powder, Tide POD Ultra Oxi Detergent Pacs, and Persil ProClean Liquid Laundry Detergent. These aren't the only options, there's a great variety out there, but if you feel overwhelmed by your options then these are great to depend on!
The best part is, these grease cleaners aren't limited to just your cloth kitchen mats, they can be used to clean a broad spectrum of surfaces, including rubber mats!
Rubber Mats
Rubber Mats are tricky to clean. It's not difficult, just tricky. Online solutions to cleaning rubber surfaces are to mix up water and white vinegar or make a solution our of alcohol and laundry detergent, but like most DIY home cleaners, these have a catch.
Rubber mats accumulate a lot of oil, grease, dust, and other impurities from the air. They don't trap a lot of hair, as they don't have threads like cloth mats do, but their surface lets oil accumulate which traps dust in between the grease- disgusting right!
What's wrong with DIY?
The reason the infamous water and vinegar solution doesn't work is that while it does rub away the dust on the surface, it's not strong enough to break down the oil and grease layer to sufficiently clean the surface.
Another reason why you shouldn't use home solutions is that even a little inconsistency in measuring the liquids can lead to damaging the rubber kitchen mat. Rubber mats are generally durable and can be used for a long time if taken care of properly.
Recommendations:
The best cleaners for rubber mats are those which have a neutral or slightly acidic pH. Some of the most recommended cleaning products for rubber mats are Chemical Guys CLD_700_16 Floor Mat Cleaner and Protectant (Rubber + Vinyl), Trewax Vinyl, Rubber, and No Wax Neutral Floor Cleaner, and Turtle Wax 50572 ICE Rubber Floor Mat and Carpet Cleaner.
These are just some of the many options available for all rubber mat owners- all that matters is that you get the best one for your mat!
Some Tips:
Rubber mats will serve a long time if kept clean and maintained well. Although it is unnecessary to degrease it every-day, it is recommended that you brush it out every 2-3 days to stop the dust from clumping up.
Another highly recommended purchase would be to get a sealant. Cleaning a rubber mat is simple science; brush out the dirt, let the degreasers remove the oil and grease from the surface, and lastly, seal it. Simple enough right?
What's a Sealant? – The best cleaner for the kitchen rubber floor mat
The work of sealants is to simply seal the surface. That way the inner material of the rubber kitchen mats won't be ruined and will survive for a long time. It acts as a protective seal against the dust and grease and because of it, all the impurities simply stick to the surface instead of pouring in- easier to clean and maintain!
Make Haste!
Maybe some of you have had a kitchen mat for a long time and never really knew how to use it. Maybe you've mistreated it. You don't have to worry, it's not too late. Everything can be salvaged and all it takes is for you to read through this, figure out what you need, and start caring for your mats from today!